All intoxicants and drugs – with the exception of tobacco – have always been banned on Norwegian offshore installations. Oslo tabloid Dagbladet nevertheless informed its readers on 31 March 1978 that "Statfjord is a Mecca for trading in goal, diamonds and narcotics".
Scaffolder Erik Krog reported that everything could be bought on Statfjord. "It's the Americans who offer the goods, and at very low prices." According to the paper, cannabis and large quantities of heroin were also available.
The same article was also highly critical of checks at Flesland heliport outside Bergen. "[Searches] are swift and very superficial," it claimed. A Dagbladet reporter had witnessed the checks carried out on passengers. The main concern of the security personnel was to ensure that nobody was carrying alcohol, and that those returning to land had no stolen tools with them.
This story was followed up in the same issue by an article headlined "North Sea a 'transit port' for drug smuggling?".[REMOVE]Fotnote: Dagbladet, 31 March 1978. "Statfjord er et mekka for omsetning av gull, diamanter og narkotika". It claimed that the police thought the platforms were probably being used for drug smuggling and that both they and the customs services would be tightening up their checks.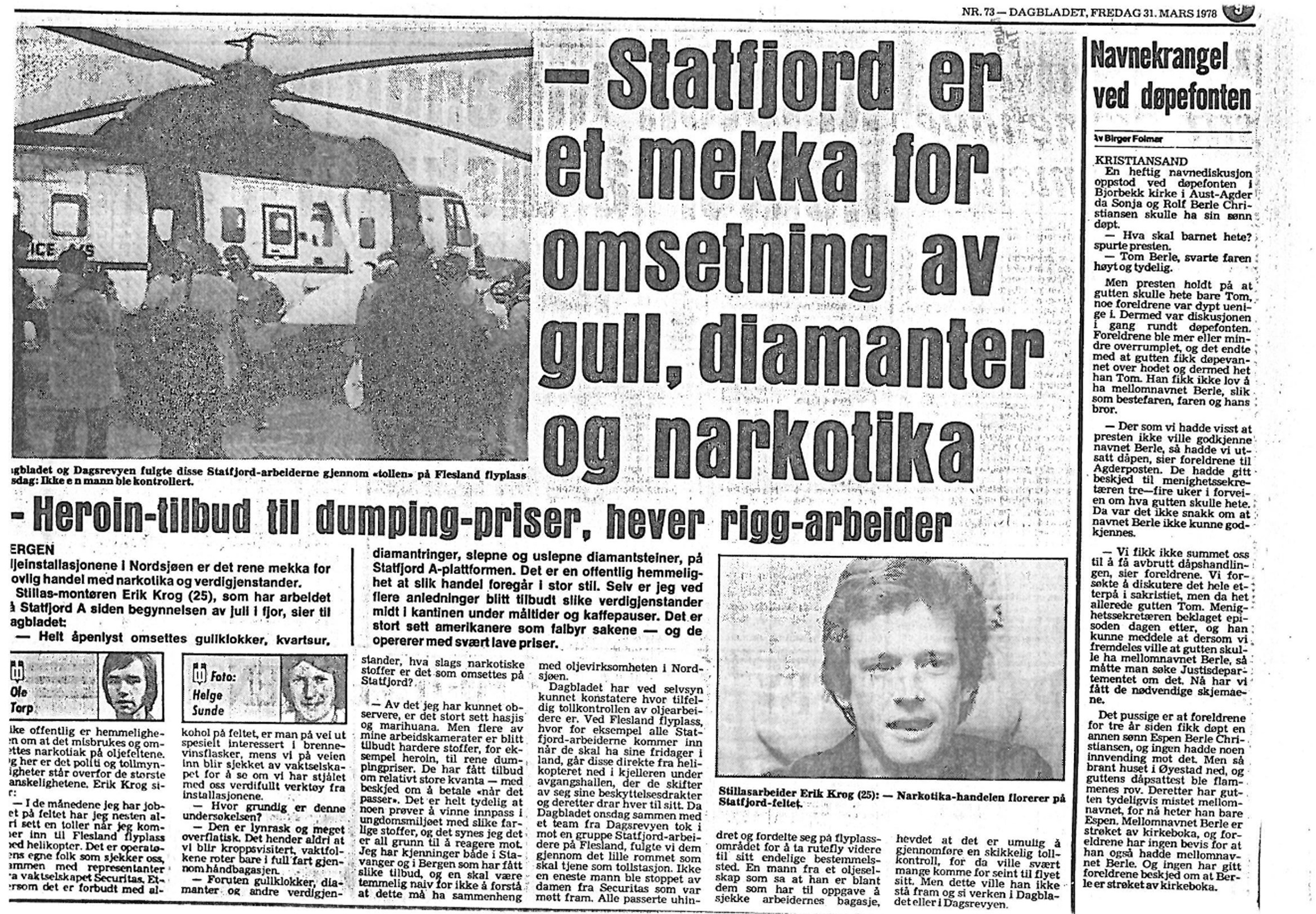 Dagbladet continued its series about drugs use on Statfjord the following day. According to anonymous sources, a Spanish worker was on the verge of death at a hospital in Spain after taking poor-quality heroin on the A platform. He was said to have injected morphine cut with flour and sugar.
The same sources, who claimed to be very familiar with conditions offshore, also told the paper that this was not a case of sporadic smoking but of relatively high consumption of heroin.
A few days later, Oslo business daily Norges Handels og Sjøfartstidende reported that the safety representative on Statfjord denied that drugs were being taken on Statfjord A. He maintained that the source used by Dagbladet had left the platform on 10 November 1977.
It was also asserted that the police had tried to contact the person concerned, but without success. An investigation was launched in the wake of Dagbladet's story about drug use on Statfjord A, which clearly established that there was no sign of drugs on the platform.[REMOVE]Fotnote: Norges Handels og Sjøfartstidende, week 15 1978. "Narkotikarykter fra Statfjord dementeres".
Had a campaign been launched to blacken the image of the offshore workforce, or was drug use a problem on Norwegian platforms in general and Statfjord in particular?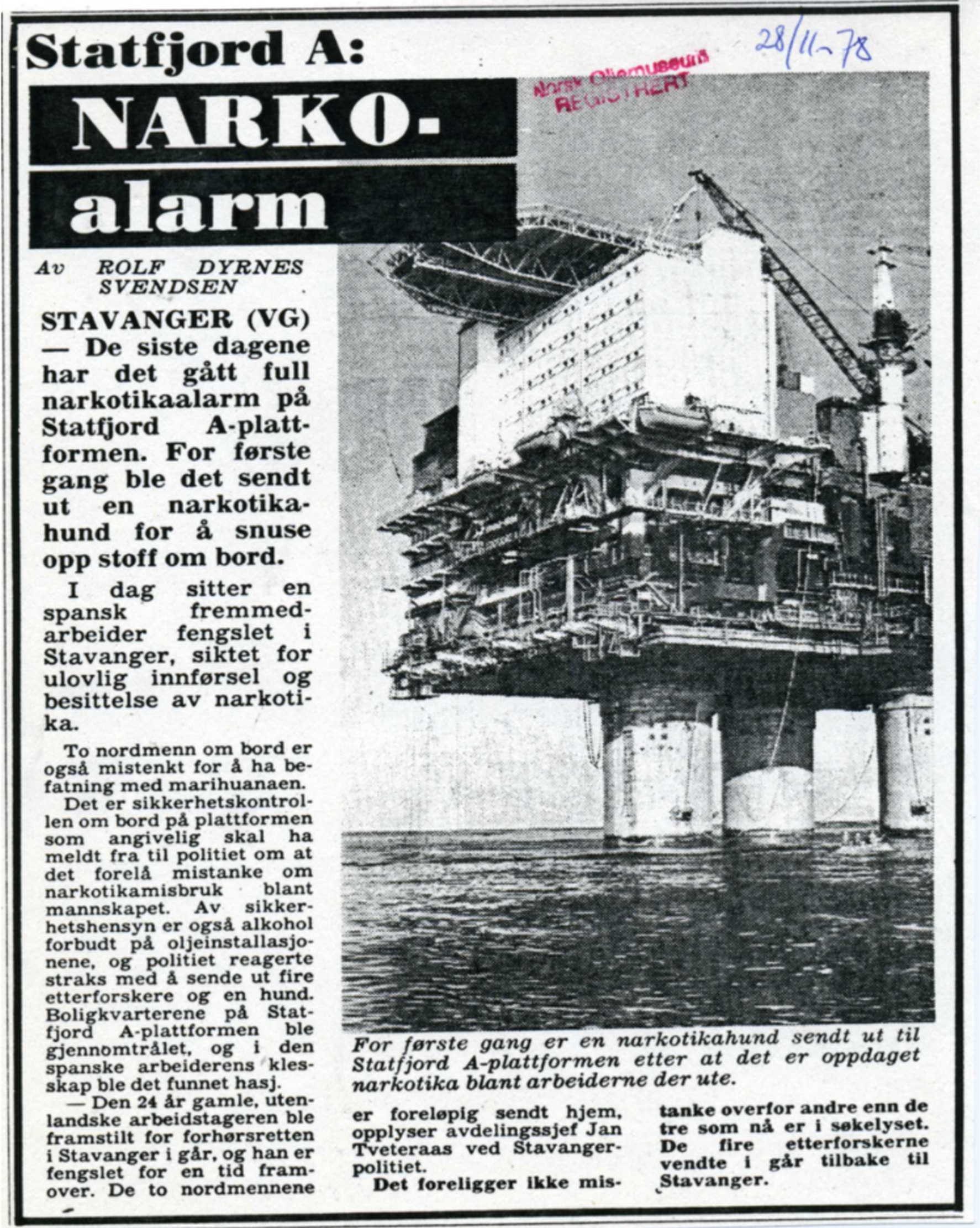 Drugs had indeed been seized offshore. The first occasion was on Ekofisk in 1977, when four boxes containing 375 grams of cannabis and 55 grams of amphetamines were found. Small quantities were thereafter seized on several occasions from both foreigners and Norwegians.
In 1984, the police claimed that an estimated 200 named offshore workers were suspected of being drug-users, including platform personnel and crew on drill ships, supply vessels, stand-by ships, diving support vessels and the like.
The police maintained that one-two per cent of.[REMOVE]Fotnote: Rogalands Avis, 21 December 1984. "200 oljearbeidere i narko-arkiv". But no studies had been carried out on this issue.
The police statements were based on a number of drug raids staged on the country's offshore installations, including Statfjord. Workers suspected of using narcotics were arrested and their homes were ransacked while they were on leave.
Frequent checks were also made when personnel were heading offshore. The police claimed to have "clear indications that there is or has been widespread drug-taking on [Statfjord]."[REMOVE]Fotnote: Dagbladet, 28 November 1984. "Narkorazzia ble varslet".
"Rolling up" this narcotics scene on the field began with the discovery of a small quantity of cannabis on a British operator of remotely operated vehicles (ROVs).
The police later found 10 grams of cannabis and six doses of LSD in a parcel mailed to another British worker. On that basis, they staged two raids on the Statfjord platforms on 6 and 26 November 1984.
A thorough approach was taken, with sniffer dogs brought out to the field. They were intended to smell their way through the whole platform, but an unexpected obstacle emerged – the dogs were unable to walk on the gratings which form most of the decks on Statfjord A. So the raid was confined to the living quarters, which had normal floors.[REMOVE]Fotnote: Interview with Arne Evensen at Statoil by Trude Meland, Norwegian Petroleum Museum, 14 June 2010.
These raids, combined with a search of all personnel flying out to Statfjord on 15-16 January 1984, angered the workforce. Many felt themselves pilloried and degraded. Statfjord personnel did not like being treated as suspicious persons, and having their workplace depicted in the mass media as a sanctuary for drugs.
The Norwegian Oil and Petrochemical Workers Union (Nopef) also reacted sharply to the treatment of the workforce. While accepting the necessity of sporadic checks by customs officers, it was unhappy over the way the police and customs had acted.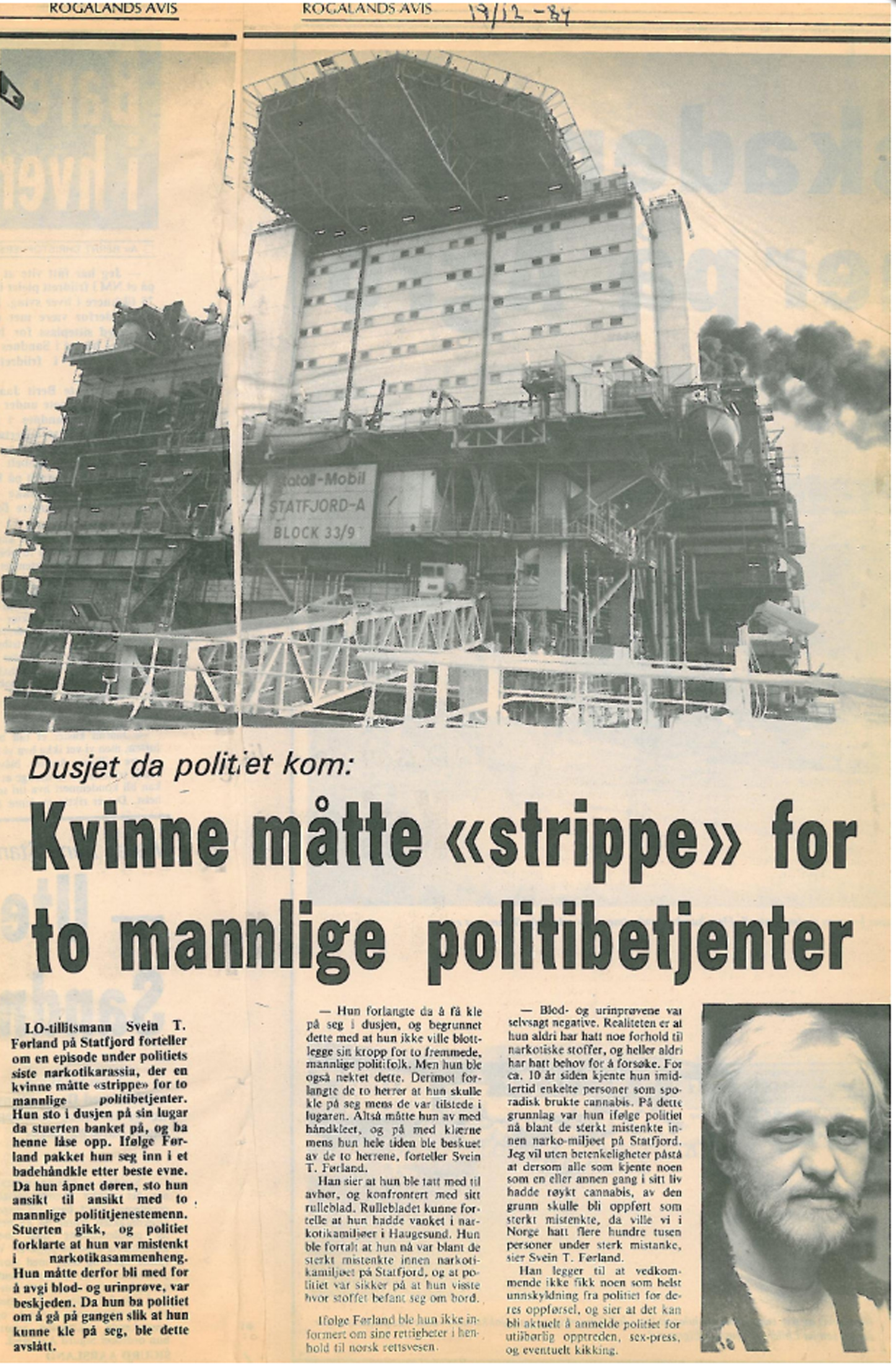 In the union's view, it should be unnecessary to strip-search all travellers or making visible arrests on the basis of suspicions.[REMOVE]Fotnote: Ryggvik, Helge and Marie Smith-Solbakken. Norsk oljehistorie. Blod, svette og olje . Oslo 1997: 399. During the platform raids, suspects were pilloried in front of their colleagues. In one case, a woman was taken out of the shower in her cabin by an all-male group of constables. At the Flesland heliport outside Bergen, workers had to strip naked for a body search.
Erna Jensen, chief safety representative on Statfjord. criticised the operations: "We never notice any drug misuse out on the field, and think it's terribly sad that the public get a regrettable impression of Statfjord when six people are sent ashore in that way," she told Rogalands Avis after the second raid. "If the police have suspicions about specific individuals, they should arrest them while they're ashore."[REMOVE]Fotnote: Rogalands Avis, 29 November 1984. "Vi trodde Statfjord var rent for narkotika".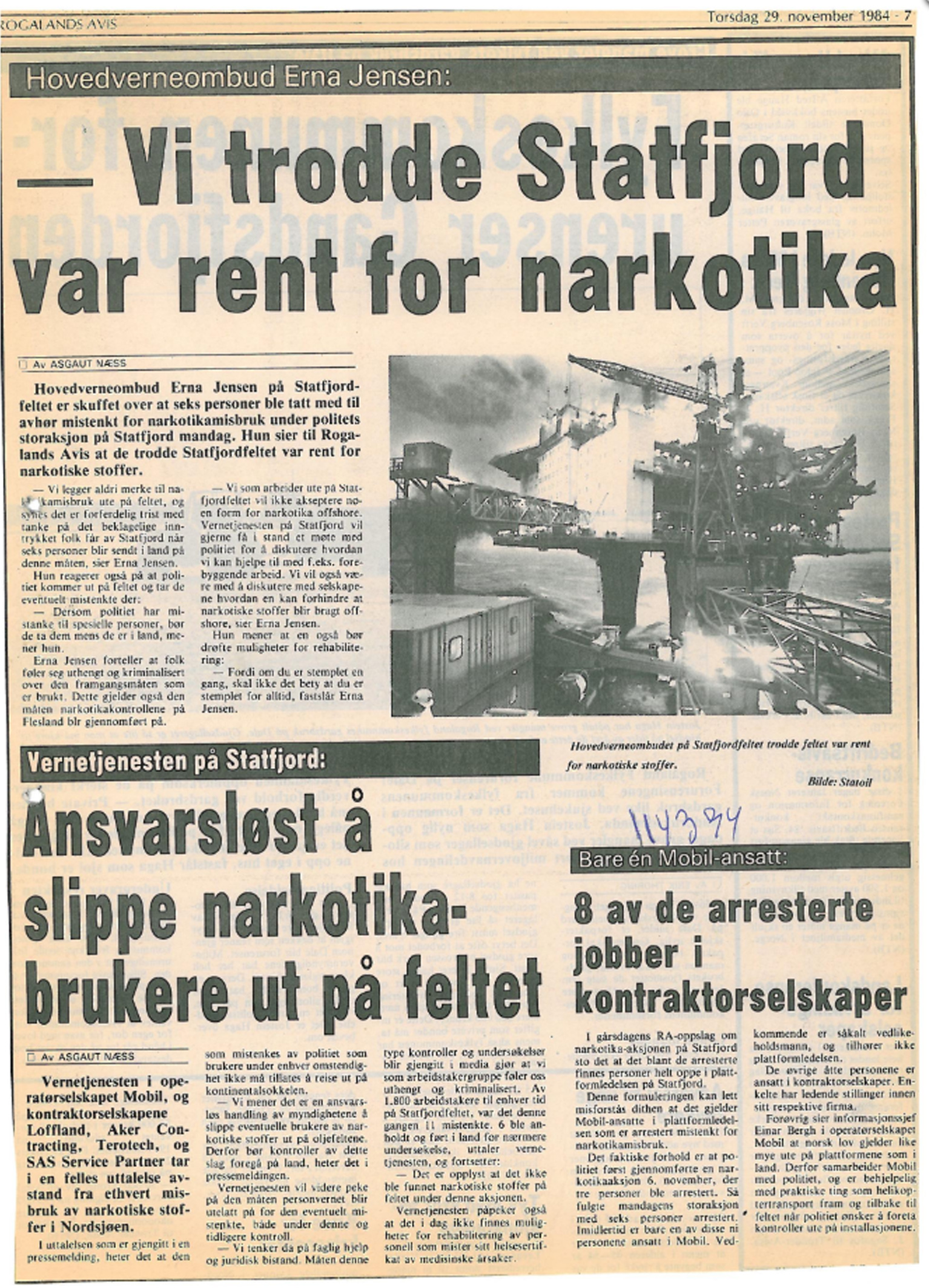 During the first raid on the field, 10 people were investigated and three of these were removed to land. Nineteen people were investigated on the second occasion, with six taken ashore to be questioned and released. No narcotics of any kind were found by the police on Statfjord.
The debate about drug use on Norwegian platforms has flared up at irregular intervals since 1984. After detecting several stand-alone incidents of drug-taking, the Norwegian Oil Industry Association (OLF) decided in 2010 to survey drug use on the country's offshore platforms by testing sewage.
This approach was adopted to protect the privacy of individuals and because it would cost less than testing people directly. The Norwegian Institute for Water Research (Niva) was to do the work.
The Industry Energy union, part of the Norwegian Confederation of Trade Unions (LO), was sceptical about the plan and expressed concern at the threat to personal privacy. Were drugs to be found in the sewage, it feared that a witch-hunt would be launched against employees.[REMOVE]Fotnote: NRK.no 3 December 2010. "Skal kartleggja narkotikabruk på norske oljeplattformer". At the time of writing in 2012, the planned survey had not been launched.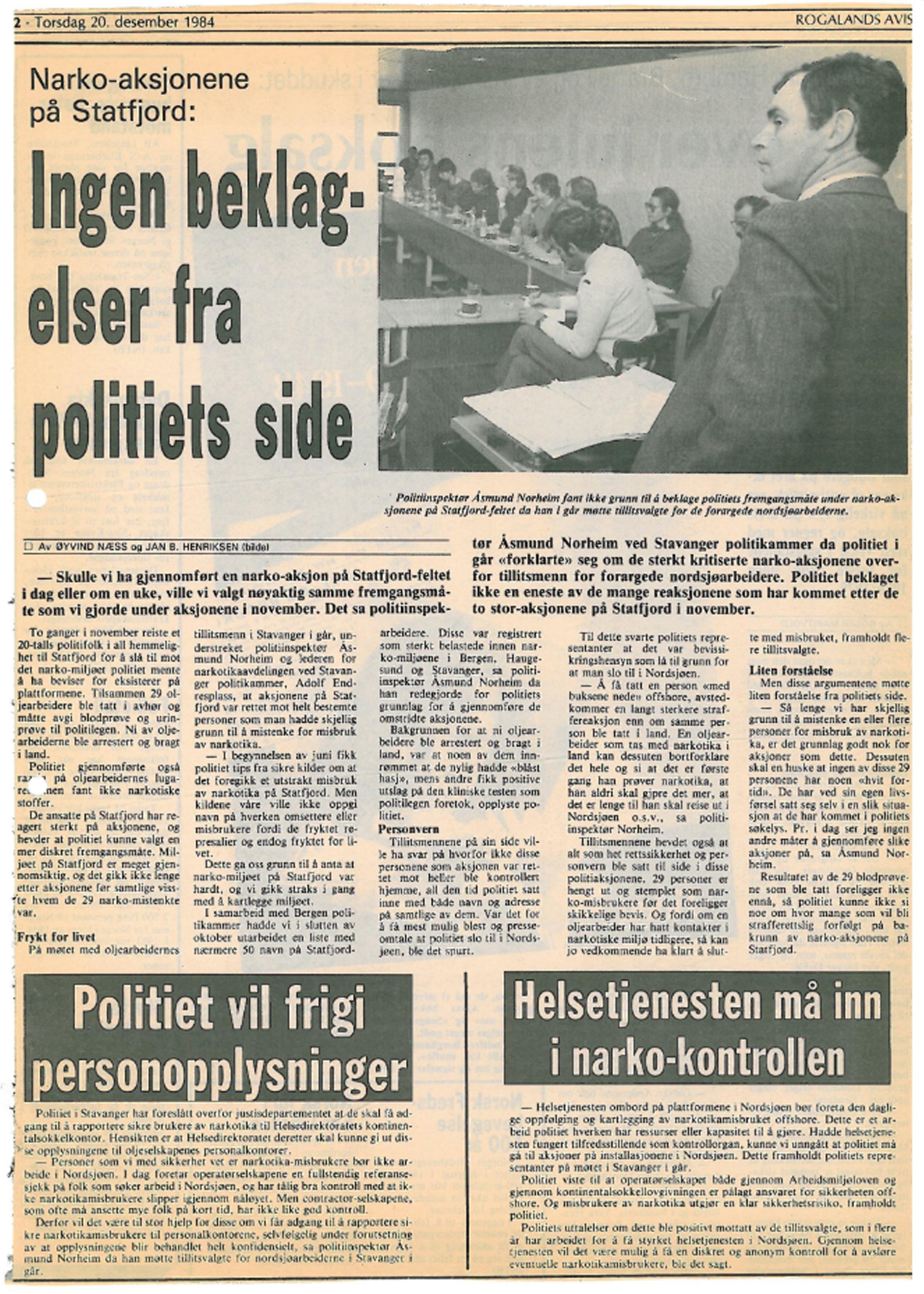 Little research or other documentation is available which deals specifically with the problem of drugs offshore, and drug testing remains a touchy subject. On 17 March 2011, ExxonMobil announced that it would enforce alcohol and drug testing of everyone who was going out to its platforms – not only its own personnel, but also employees of contractors or service companies.
A number of other companies wanted to introduce random drug testing, inspired by global policies which specify that all employees would be subject to random and arbitrary tests.
The unions take the view that random testing represents an infringement of the employee's integrity and threatens their legal rights. They want the emphasis to be on preventive efforts, with testing only when reasonable grounds for suspicion exist. Random testing is not only illegal but also violates the relationship of trust between employee and employer.
In August 2010, the Confederation of Norwegian Enterprise (NHO) also made it clear that random testing is not appropriate and moreover illegal.