Topside leaves the dry dock
Decision on Statfjord B
The tow from the Gands Fjord
Work on slipforming and outfitting the concrete gravity base structure (GBS) for Statfjord A was completed in the Gands Fjord outside Stavanger in the early summer of 1976.
The colossus was then readied for towing to Digernessundet near Stord further up the coast, where it was to be mated with the topside under construction at Aker's Stord Verft yard.
To prepare for the tow, the GBS had to be raised by deballasting the concrete cells until it was floating stably with the cell domes above water. The mooring lines were cut, the towing hawsers attached, and the five large tugs were ready to go.
This operation began on 2 June, in ideal weather for a controlled tow across the open Bokna Fjord north of Stavanger.
When the voyage began, however, the GBS sheared off to one side and became unmanageable. Fortunately, the crew succeeded in avoiding a collision with the eastern side of the fjord.[REMOVE]Fotnote: Lavik, H., Berge, L., Gooderham, R., & Statfjord-gruppen. (1997). Statfjord : The largest oilfield in the North Sea. Stavanger: Statfjord group 28.
The only option was to shut off the engines and re-moor the GBS, while detailed efforts were launched to understand what had happened.
A great deal of testing and many investigations were carried out over the next few weeks, both at Trondheim in Norway and in the Netherlands.[REMOVE]Fotnote: Interview with Svein Jørpeland by Trude Meland, Norwegian Petroleum Museum.
It turned out that several factors had made the tow impossible. The GBS was deballasted until the tops of its storage cells were out of the water, and resistance at the surface was too high when the tow started.
In addition, the five big tugs ahead of the structure were running their propellers at full revolutions. That pushed large masses of water backwards against the cells and created a strong counter-current. As a result, the forces balanced each other out and the GBS sheared off uncontrollably.
The solution was to lengthen the towing lines and obtain more powerful tugs. This delay was used for further work on mechanical outfitting of the shafts.[REMOVE]Fotnote: Interview with Svein Jørpeland by Trude Meland, Norwegian Petroleum Museum.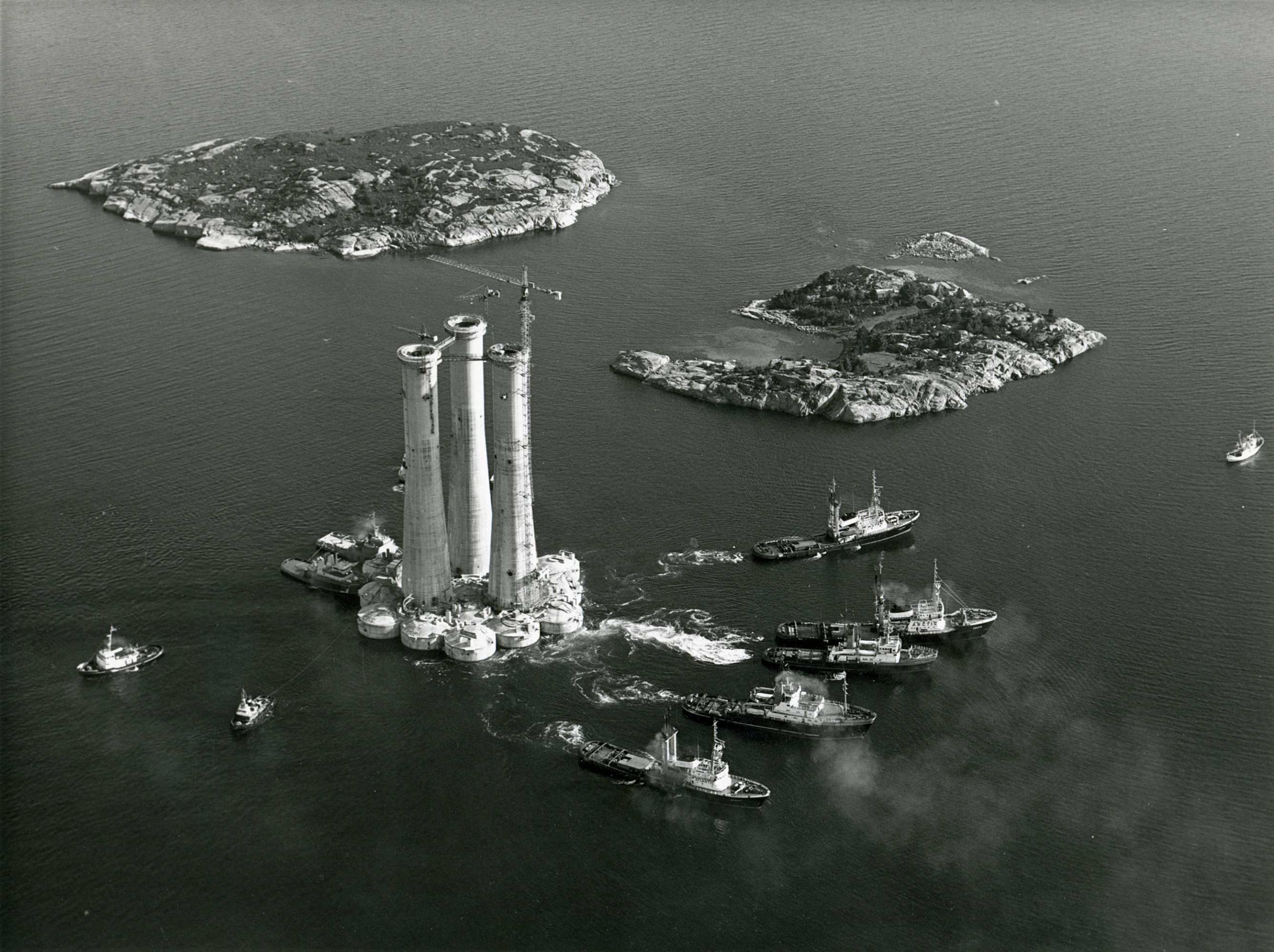 It took until August 1976 before everything was ready to try again, and this time the operation went as planned. More than 100 000 horsepower were deployed to tow the GBS to Digernessundet, this time with longer towing lines. Outfitting of the shafts had then been completed, and mating of GBS and topside could begin.
Topside leaves the dry dock
Decision on Statfjord B