The occupational health service on Statfjord in 2010
With Statfjord far from land and the nearest hospital an hour away by helicopter, it has been important to maintain a good and acceptable occupational health service (OHS) on the field.
The operator, initially Mobil and subsequently Statoil, has always been responsible for the health and safety of everyone on the platforms. It has accordingly stationed nurses there around the clock as part of an OHS supported by the organisation on land.
Pursuant to section 30 of Norway's 1977 Working Environment Act, the purpose of the OHS was to contribute to creating and maintaining safe and sound working conditions and to look after the health of employees both on land and offshore.[REMOVE]Fotnote: This represented a big change from the traditional goal of medical services, which had been to support and assist people suffering from pain, worry or disability, and to nurse them in the best possible way so that they could return to work and the community. The idea of preventive work acquired a strong position through the Working Environment Act.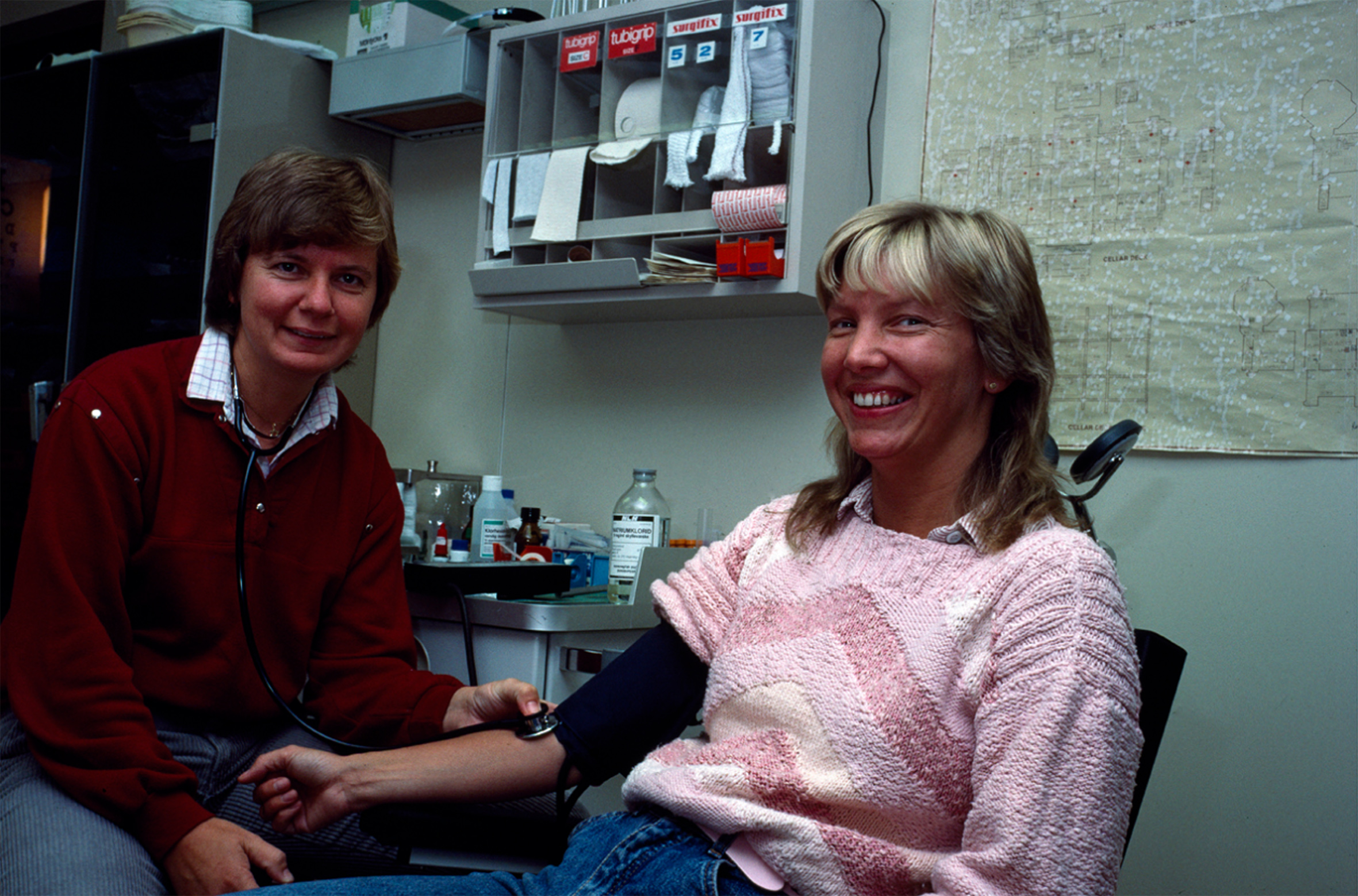 These goals laid the basis for Mobil's planning of health provision for Statfjord.[REMOVE]Fotnote: Statfjord was the only Norwegian field operated by Mobil, and the whole company in Norway was structured around what was to happen there. Internal memos reveal that its OHS was to offer the most satisfactory possible medical services to workers on the installations, and to help build up a good emergency response organisation on the field.
It was to survey and monitor the working environment and worker health, and to advise employees and employers on health risks and on measures to prevent illness and promote good health. The service was also to contribute to diagnosis, treatment and rehabilitation of people suffering from illness or injury, and to provide occupational health and hygiene advice in the workplace.[REMOVE]Fotnote: Occupational health and hygiene covers the identification of health risks at work and the science of preventing illness and accidents in the workplace. Work on preventing injuries and promoting health covers not only microorganisms but also chemical and physical hazards. Knut Jørgen Jørgensen's archive.
The offshore nurse
The offshore nurses provide the front line of the OHS on Statfjord. They are there to help everyone on the field, and not just Statoil employees. Their work primarily covers three areas. One is the provision of a general medical service, which involves acting in the same way as a family doctor on land. They also provide acute medical help. Finally, they form part of the OHS – when the company brings in employees for follow-up and supervision, as in cases where the nurse learns that a person has been exposed to noise or chemicals.
The nurse is required to conduct regular safety inspections, frequent checks of hygienic conditions, monitoring and sampling of drinking water, and maintenance and inspection of first-aid gear, eye washing stations and medical equipment.
Their job also involves keeping an eye on and reporting undesirable or unhealthy conditions in the working environment. That includes measuring noise, light and pollution levels in collaboration with the occupational hygienist.
Offshore nurses require nursing qualifications and broad experience, and usually have additional training in acute, hyperbaric (diving) and disaster-response medicine. Most are also certified to perform anaesthesia and have studied occupational health.
All nurses employed by Statoil must take a 40-hour basic first-aid course, and a new programme has also been developed at the Stavanger Acute Medicine Foundation for Education and Research (Safer).[REMOVE]Fotnote: Established by the University of Stavanger, Stavanger University Hospital and the Lærdal company. This fully equipped facility offers simulator training on medical issues. The first-aid team offshore also undergo simulator testing.
Under the new operations model introduced after Statoil merged with Hydro oil and energy, the offshore nurses have been given the title of health, safety and environmental (HSE) coordinators. Their job is largely the same, but they have taken over a number of functions from the safety department.
The former safety inspectors, leaders and department have virtually disappeared from the platforms, and safe operation has become a line management responsibility. The nurses are involved in the conduct of safe job analyses (SJAs) and in checking work permits.
Being the sole nurse on a Statfjord platform is a big responsibility, so clear protocols and procedures have been developed. These are constantly evaluated and amended as required. The protocols developed for medical conditions and injuries describe how far a nurse should go in examination and treatment. In specified cases, they can start treatment and administer medication without contacting a doctor on land.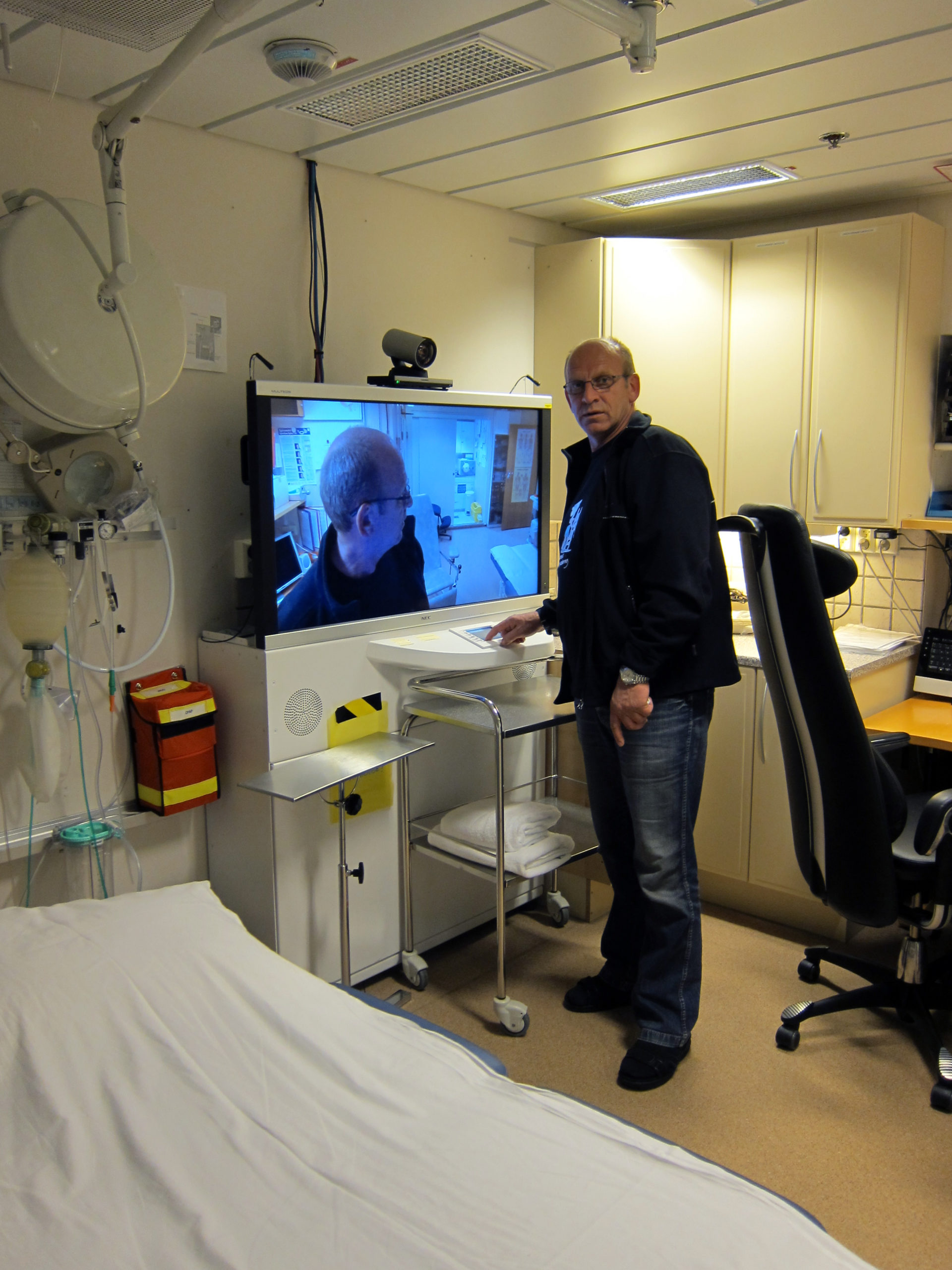 When action is not authorised by the protocol, the duty doctor must be contacted and the latter becomes responsible for treatment from the moment they receive the phone call and the nurse has explained what has and has not been done. Until then, the nurse is responsible. The procedures describe what medication can be administered and in what doses. Procedures and protocols are developed in collaboration with the acute medicine section at Bergen's Haukeland Hospital. The latter also receives the bulk of the patients.
When a course of treatment starts on a platform, it is accordingly one which the hospital itself has defined as the standard. If the patient is to be treated at another hospital, Haukeland communicates with it to explain the procedures implemented.[REMOVE]Fotnote: Interview with Arne Evensen by Trude Meland, Norwegian Petroleum Museum, 7 July 2011.
Each offshore installation has a health office/sick bay equipped with medical equipment and medication to deal with more everyday problems as well as with acute and life-threatening conditions.
Devices are available for resuscitation, treating shock, burns and heart conditions, and electrocardiography (ECG), along with medications for sedating patients.
Telemedicine systems have been installed in recent years on all three Statfjord platforms so that doctors on land can see and speak directly with the patient. They can thereby establish a closer dialogue with offshore nurses and patients, enabling them to make faster and more accurate diagnoses. Acute cases which previously had to be described over the phone can now be shown on the display.[REMOVE]Fotnote: Origo, April 2010.
Duty doctors
A 24-hour duty doctor service on land is available at all times to provide medical advice and guidance for health personnel on the installations. Mobil started by recruiting Bergen-based doctors in private practice as duty physicians for Statfjord. After Statoil took over as operator, the service was transferred to doctors employed by the company. These were then not only duty doctors but also had OHS responsibility for offshore employees.
Until Statoil merged with Hydro oil and energy, duty doctors employed by one of these two companies would cover for those of the other when required.
The duty doctor scheme for Statfjord has been assigned today to Offshore Health Service in Bergen, and the agreement extended to telemedicine equipment in order to strengthen the OHS on the field. Duty doctors have their own office and surgery at Statoil's Sandslihaugen premises outside Bergen.
Organisation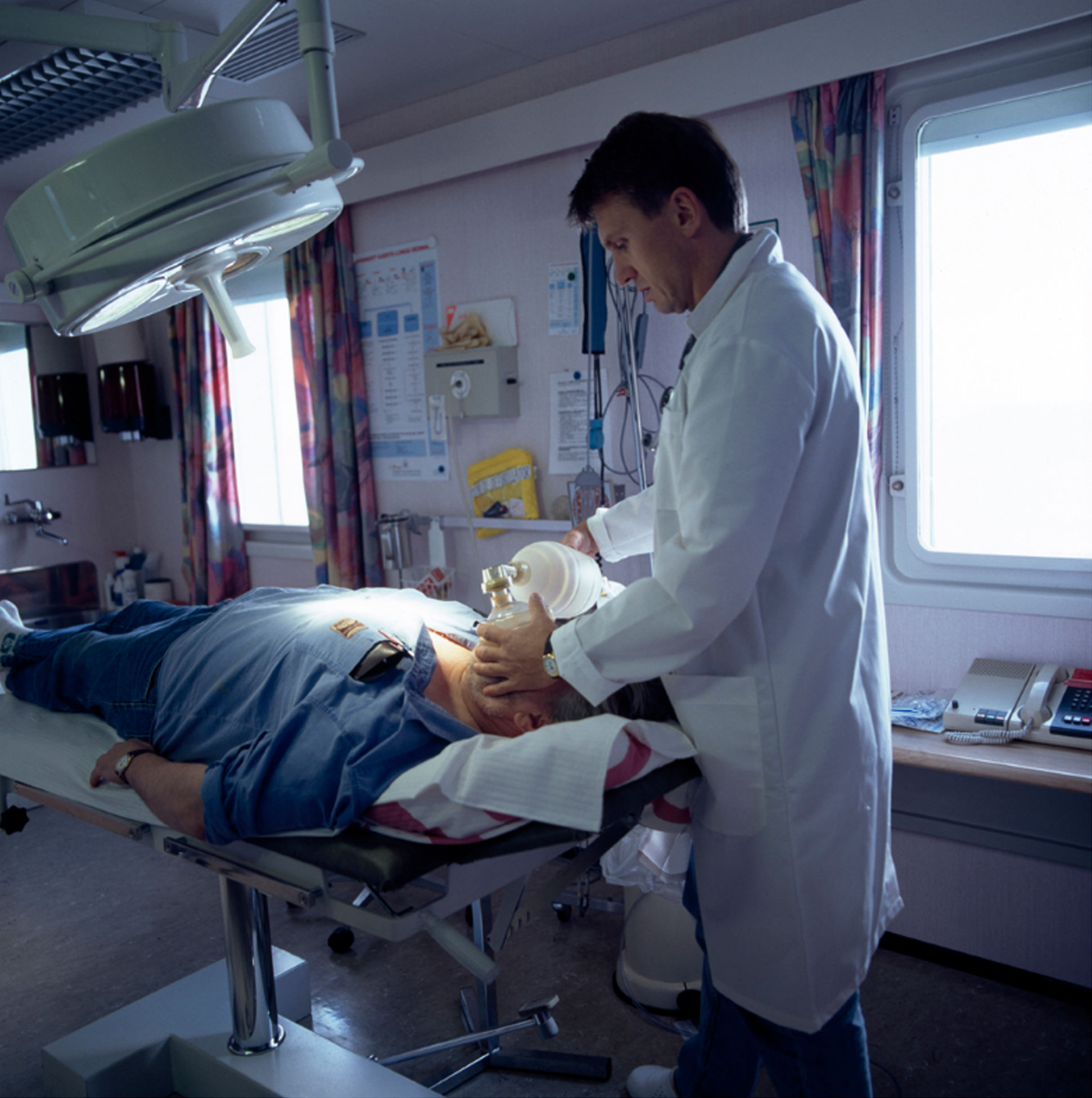 The offshore nurses report administratively today to the platform manager on the relevant installation, but for personnel and professional matters they report through the line management to the company medical officer on land.
The OHS in Statoil on land includes a chief occupational health physician reporting to the corporate management, and a medical officer responsible for Statfjord who sits in Stavanger.[REMOVE]Fotnote: The location of the responsible medical officer varies from field to field. The one for Gullfaks and Oseberg, for example, sits in Bergen. In addition comes a manager for medical treatment services, who is responsible for defining medical standards and determining the content of the medical protocols.
During the Mobil era, Statfjord had its own OHS. This was moved after the transfer of the operatorship to the Statfjord division in Statoil and later merged with the Gullfaks division to become the OHS Bergen. The latter was incorporated from 1 May 1989 in an organisation to serve Gullfaks, Veslefrikk and Statfjord as well as all Statoil employees in the Bergen area. Its primary goal was to pursue preventive work – combating occupational ill health and injuries in the widest sense.[REMOVE]Fotnote: Log of 4 June 1989, p 6. Knut Jørgen Jørgensen's archive.
This was the structure almost until the merger with Hydro oil and energy. Today, the whole OHS in Statoil is concentrated in a department in Stavanger with a responsible medical officer for each field.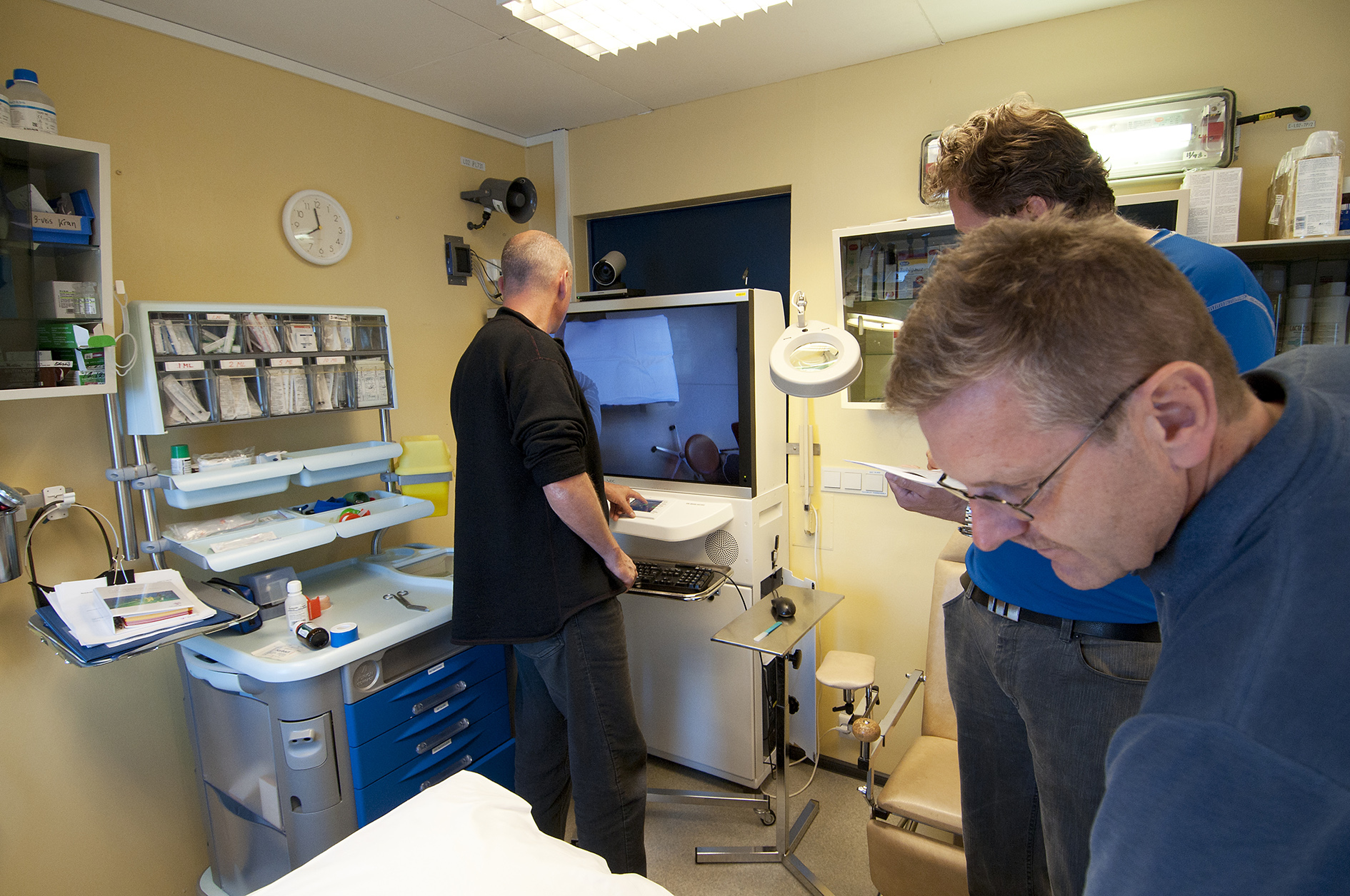 The OHS on land has recruited various specialists, such as occupational hygienists who carry out surveys and measurements, and physiotherapists involved in preventive health work. They are particularly concerned with ergonomic conditions in the working environment, both offshore and on land.
Work on ergonomics began as early as the Mobil era. New facilities were devised in cooperation with physiotherapists and the health office to increase work accessibility and ease of use, and to make work operations more ergonomically appropriate. These included the development of skids and crane hooks as well as a completely new type of crane cabin.
Offshore first-aid team
The nurses are responsible for putting together first-aid teams on the respective platforms. Although many offshore workers are not keen to participate in such emergency preparedness measures, everyone on the platform can be selected to take part.
This is a job offshore personnel cannot refuse. They are supposed to know basic first-aid, and to be familiar with the platform. Employees are used as response personnel in the event of fires, explosions, uncontrolled gas and oil leaks, and so forth.