Poor working conditions or striking to smoke?
Statfjord Transport established
Poor working conditions or striking to smoke?
Completing Statfjord A in 1978 was a jigsaw puzzle, and working on it proved demanding. New modules were constantly having to be put in place, and planning was inadequate. Equipment already installed frequently had to be demounted and then reassembled. The workers were frustrated.
Space had to be found not only for permanent modules, but also for temporary units such as toilets, places to take coffee breaks and so forth for everyone employed on the platform. Most of the workers ate and slept on the Polymariner and Nortrym flotels, which were moored alongside.
Great discontent eventually developed among the Norwegian workforce. Issues included the command-based American management style, with constant threats of dismissal, as well as working and particularly sanitary conditions. Norwegian employees of the Aker group, most of whom belonged to the Norwegian Union of Iron and Metal Workers (NJMF), were annoyed by their treatment.
Only 10 toilets were available on deck and, to top it all, the Brownaker management had removed half the door on each of them. The stated reason was a desire to end the practice of workers taking an illegal smoke in the toilet, but the Norwegian workers regarded this as an unreasonable measure.
Nor were any drinking fountains installed at the worksites. The hand basins in the toilets were the only source of water between the meal breaks.
Although it was forbidden, it was not unusual for workers wanting a smoke to sneak into the toilets – which contained both an ashtray and a sign saying that smoking was forbidden.[REMOVE]Fotnote: Halvorsen, Ø M. Streiken på Statfjord A. Oslo, 1978: 36.
A number of workers were also frustrated about safety conditions in the workplace. It was more or less impossible to obtain gloves or facemasks for handling chemicals. Scaffolding was not available for everyone – H-beams for the workers to balance on were often positioned over large drops.[REMOVE]Fotnote: Conversation with Arnstein Hølmebakk and Wiggo Larsen by Trude Meland, Norwegian Petroleum Museum, Oslo, 15 May 2010.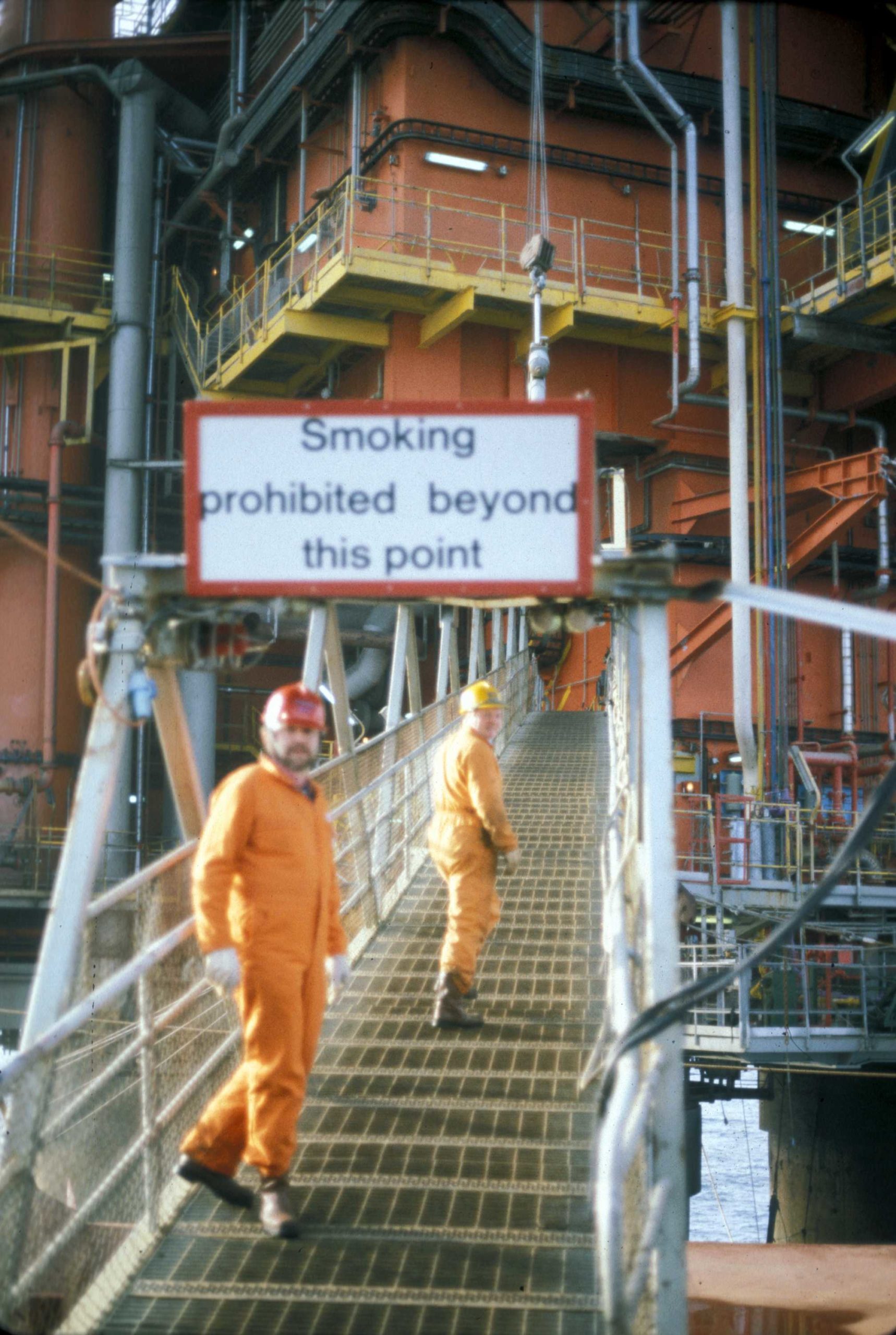 When drilling from the platform started, and smoking ban would be imposed on deck. But no arrangements had been made for secure places to smoke.[REMOVE]Fotnote: Interview with Svein Jørpeland by Trude Meland, Norwegian Petroleum Museum, Stavanger, 2010.
This issue had been raised by the safety representatives on Statfjord as early as May that year. When the Brownaker management announced the outdoor smoking ban on Statfjord A at a meeting, it was accepted by the safety representatives. But they requested alternative smoking locations for everyone working on deck.
Personnel in Loffland, who were working on preparations for drilling, had already been provided with containers to smoke in. Mobil employees and the Brown & Root/Brownaker management could smoke in the living quarters. The safety representatives were informed orally on Thursday 3 August that the smoking ban would now be enforced.
This issue was discussed at a meeting of union officials for the Brownaker workforce, and the request for secure smoking rooms was again presented to the management. As a temporary solution, the safety representatives proposed that workers should be able to cross the gangways to the flotels, where smoking was allowed, to take a break and get something to eat.
But the fateful notice was posted on Saturday 5 August, making it clear that smoking during working hours on the flotels would result in disciplinary action – a warning or dismissal. This was done without the knowledge of the safety representatives or union officials:
"Smoking on Polymariner. With effect from Sunday 6 August, crossing the gangway to Polymariner for smoke is not permitted. Breaches of this prohibition will unfortunately have disciplinary consequences.
"Smoking on Polymariner is still permitted as usual during coffee breaks and the lunch break.
"Smoking on Statfjord A is only permitted in the PLQ [living quarters]. Smoking in other areas will mean instant dismissal.
"Apologies for these strict rules
"Tor Fjelldal, Brownaker supervisor."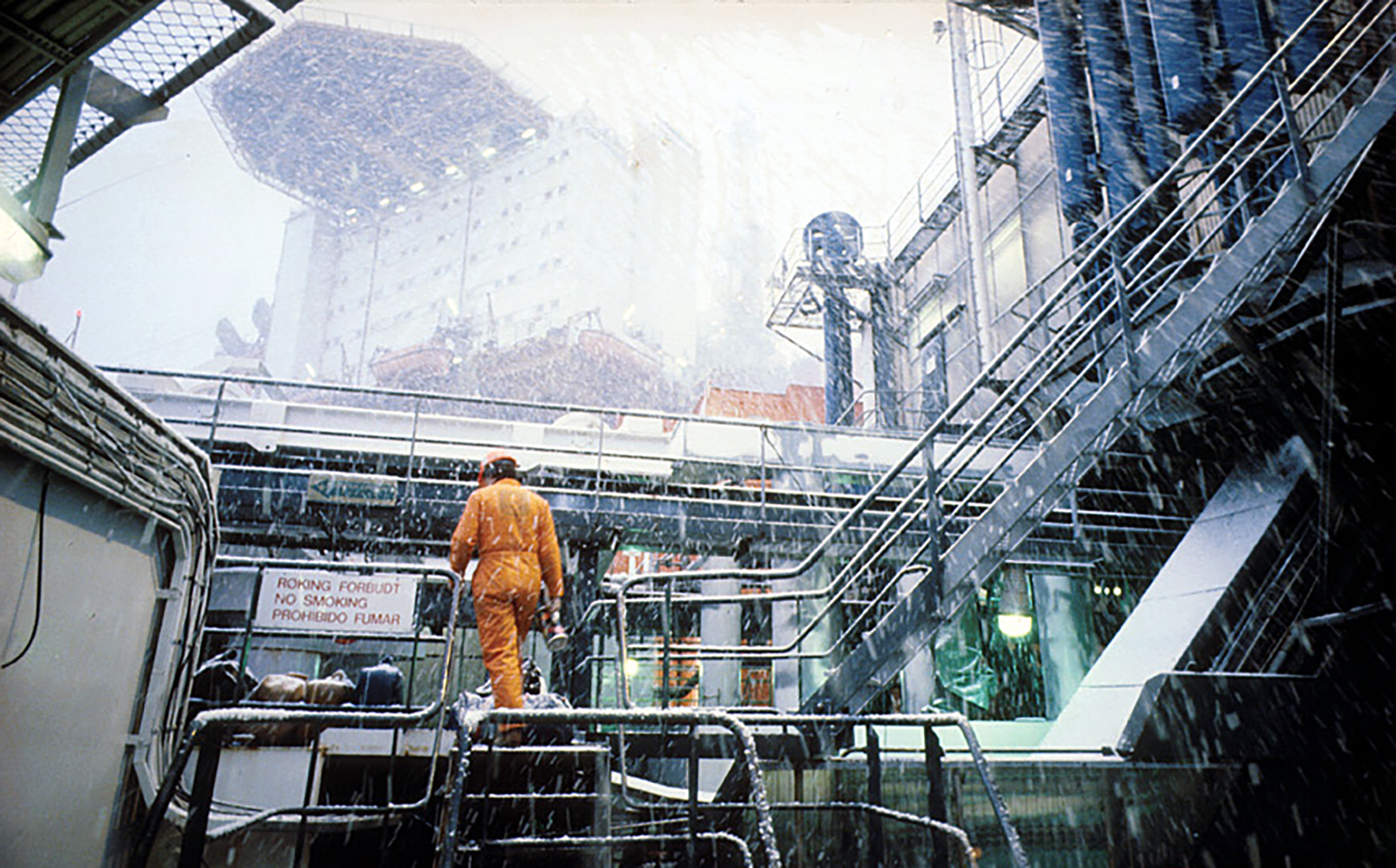 This notice was regarded as a provocation by the workforce. It bore witness to "American" methods, an arrogance and lack of respect for the workers, their union officials and the safety delegates.
Sections 70 and 72 of Norway's Working Environment Act, which had been passed the year before, made it clear that a new staff rule could not be established without the approval of union officials. Such a rule was only valid if established in a lawful manner. In this case, union officials had not even been informed about the new guidelines.[REMOVE]Fotnote: Working Environment Act – LOV-1977-02-04-4. Section 70: "At undertakings bound by a collective pay agreement, the employer and the elected representatives of the employees may establish staff rules by written agreement. If such agreement is binding upon a majority of the employees, the employer may make the staff rules applicable to all employees in the sectors of work covered by the agreement." Section 72: "Staff rules are valid only when established in a lawful manner and when they do not contain provisions contrary to the Act."
That same evening, the workforce assembled for a general meeting in the cinema on Nortrym. The room was packed. Kjell Monsen, chair of the working environment committee (a joint management-union body required by law), was elected to chair the meeting, with Arnstein Hølmebakk taking the minutes. A resolution was carried by an overwhelming majority – with one dissenting voice:
"A general meeting of the day shift (PM [Polymariner] and NT [Nortrym]) has resolved that we stand by our right to take a smoke during working hours, and that we will continue to exercise that right by going to those places where smoking is permitted. We do not accept any threats of dismissal or warnings in connection with the right to take 'five minutes and a smoke' during working hours, and we demand that the notices posted on this matter are withdrawn by 16.00 on Sunday 6 August. If not, the day shift will cease to work from 16.00 until this is done. We emphasise that this has nothing to do with observing a smoking ban on Statfjord A."[REMOVE]Fotnote: Minutes of the general meeting for the day shift, 19.30 on Saturday 5 August in the cinema on Nortrym. Archive 2010.004 Norwegian Petroleum Museum.
It was also resolved that demands for better toilet provision, cleanliness and access to drinking water should be submitted to the management. At a general meeting on Sunday morning, the night shift unanimously adopted the same resolutions.
On that Sunday, 6 August, the notices were still in place and the strike accordingly began at 16.00. Strike meetings were held every day, in an almost electric atmosphere. Between 700 and 1 000 workers took part. Of these, 700 had downed tools. The rest were foreign workers employed directly by Brown & Root, who were still at work but sympathised with the strike. Before every vote, they naturally had to leave the meeting.
A great deal was done to safeguard unanimity and prevent possible strikebreaking.[REMOVE]Fotnote: Conversation with Arnstein Hølmebakk and Wiggo Larsen by Trude Meland, Norwegian Petroleum Museum, Oslo, 15 May 2010. At every meeting, lists of names of the various pickets were called out. An information group was established, along with a separate cultural committee, and other welfare measures were put in place. The strikers even penned their own song.
Their main demands were a withdrawal of the notices and a guarantee that no reprisals would be taken against any of those who had downed tools. The other issues, such as sanitary conditions, drinking water and safety, were to be discussed later.
Brownaker, Statoil, the Norwegian Confederation of Trade Unions (LO) and land-based union officials for the workers all defined the stoppage as "illegal" under Norwegian labour relations practice. The strikers took a different view, and maintained that Brownaker had acted in breach of sections 70 and 72 of the Working Environment Act, and that the strike was therefore legal.
John Sakseide, the union convenor for the Aker group, strongly criticised the strike in the press. It reported on 8 August that he would do nothing until the strikers had returned to work. This message was repeated time and again while the strike lasted. He also refused to speak to the strike committee.
This had been elected in recognition of the difficulty of controlling a strike offshore, and comprised 31 people drawn from both day and night shifts.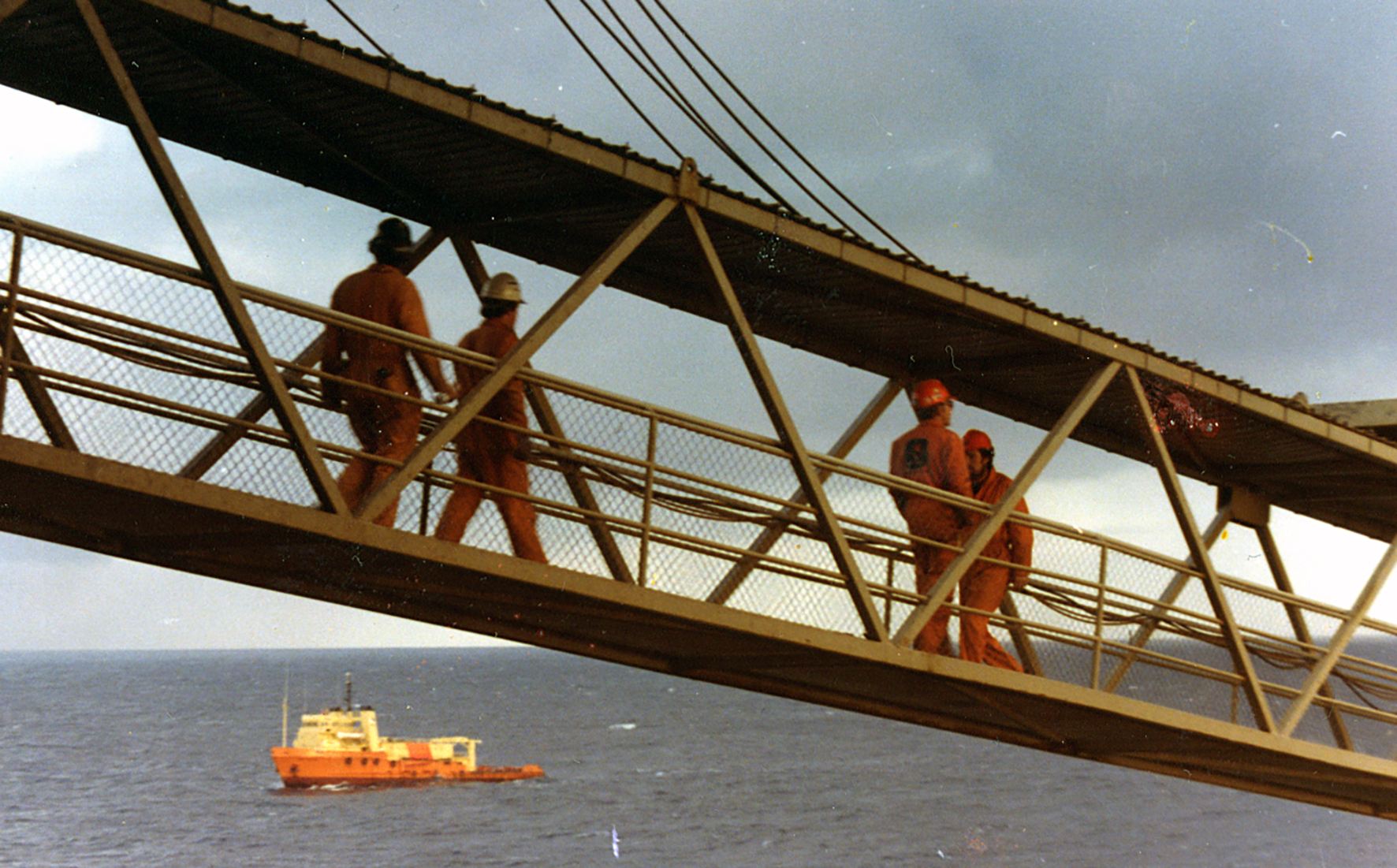 Personnel on one shift rarely saw people on the other. During the stoppage, everybody was united in a common cause. Many met each other for the first time and everyone attended the same meetings.
The latter were held in the afternoons so that people could maintain their normal daily rhythm. It was important that everyone got up at the same time, depending on whether they worked by day or by night, so that the next shift had the opportunity to go to bed.
Not everyone on the platform had downed tools. The foreign personnel employed directly by Brown & Root went to work as normal and no attempt was made to prevent them. Catering staff also worked as usual. The strike committee maintained very strict order and discipline, and the workers were put under heavy pressure. Members of the committee also admit that in retrospect. But it was necessary to maintain order.[REMOVE]Fotnote: Conversation with Arnstein Hølmebakk and Wiggo Larsen by Trude Meland, Norwegian Petroleum Museum, Oslo, 15 May 2010.
Trafikk av gående på gangbroen mellom Statfjord A og flotellet Polymariner
Traffic between Statfjord A and the flotel Polymariner. Photo: Odd Noreger
One of the problems was that people got in each other's hair. This was not like a strike on land, where people could go home or escape elsewhere. Here, 700 striking workers were congregated in a relatively small area. There was no opportunity to withdraw, and there was nothing to do as long as people could not go to work. Personnel on Statfjord A were used to working 12-hour shifts.[REMOVE]Fotnote: The ordinary staff rules which Brownaker/Mobil required all workers to study before starting to work on the platform prohibited arm-wrestling or conventional wrestling. The rules and a number of rigid regulations were often a source of great amusement for the Statfjord workforce. A general ban on alcohol was also in place on the platform. This was maintained rigidly during the strike. Staff rules for Brownaker/Mobil , Archive 2010-004, Norwegian Petroleum Museum.
After five days, nine union officials from the Aker group went out to Statfjord. This delegation was headed by John Sakseide. He wanted the agreement of the union members to talk to Brownaker. The strike committee rejected this bluntly. Sakseide also asked to hold special meetings with the respective union branch convenors, but was again refused by the committee.
Instead, the "negotiating delegation" from land locked itself in the cinema until it discovered that nobody was responding to its urgings.[REMOVE]Fotnote: It is said that members of the strike committee, in a spirit of simple curiosity, yielded to the temptation to peek around the door of the cinema to see how the delegation was faring, all alone with itself and with nobody listening to it. One of the branch convenors inside then slammed and locked the door. The delegation remained in the cinema until it could "safely" board a helicopter and return to Bergen's Flesland airport.[10] Bergens Tidende. 17. august 1978.   The strikers refused to obey their branch convenors, and a clear breach emerged between union members and the officials on land. Direct talks between the strike committee and the Brownaker management was the only acceptable solution for the former. The Aker delegation had to return home without having achieved any success.
The strike attracted much attention in the media, and a general feature was that the Brownaker management and the union officials on land secured most of the column inches – particularly in the first few days. The stoppage was presented as unnecessary and incomprehensible.
"A crazy strike" announced a leader in Stavanger Aftenblad, while Oslo daily Dagbladet claimed that "AKP cripples Statfjord A" and referred to Hølmebakk's alleged membership of the Workers Communist Party – Marxist-Leninist (AKP-ml).
Workers on the platform were constantly presented as if they were opposed to the smoking ban and unconcerned about safety, while the strikers themselves emphasised time and again that they fully supported the restrictions but wanted secure smoking rooms.
Bergens Tidende distinguished itself from the rest of the Norwegian daily press by also presenting the strikers' case from an early stage. In addition, the paper criticised Statoil and Mobil for not giving the press access to the platform.
It maintained that refusing to give journalists the opportunity to form their own picture of events was unheard-of. Statoil defended itself by stating: "If we [Statoil] had contributed, by bringing the press to the platform, to cementing standpoints and thereby making a solution more difficult, we would really have behaved irresponsibly."[REMOVE]
Fotnote: Bergens Tidende. 15 August 1978. "Statfjord-streiken lærepenge for alle".
Two days after the union delegation from land had to return empty-handed, the dispute was called off. The working environment committee gave the strikers guarantees on the key points in their demands – that the notices should be taken down and that there would be no reprisals. The workers on Statfjord A were given additional breaks for smoking or to take liquid refreshment if they did not smoke. Negotiations between union officials and Brownaker on the other demands made by the workers could now begin.
After the strike, Aksel Torp, the chief safety representative on Statfjord, spoke to the press in support of the stoppage:
"I believe that the preliminary solution to the conflict on Statfjord A is good and satisfactory for all the parties involved, and that further negotiations will settle a number of unclear matters with regard to both specific working conditions and relations between workers, union officials and employers. In that respect, the strike could have positive effects even if the conflict could have been resolved in a less dramatic fashion."[REMOVE]Fotnote: Bergens Tidende. 15 August 1978. "Statfjord-streiken lærepenge for alle".
In his view, it had been difficult for union officials and others on land to appreciate the special conditions which prevailed offshore without having been there themselves for a time.
He continued: "It's a pity that the strike has been presented by many observers as directed only against the smoking ban. A whole series of irritations contributed to the stoppage – conditions which have created substantial dissatisfaction in the workforce and which can hopefully be sorted out now."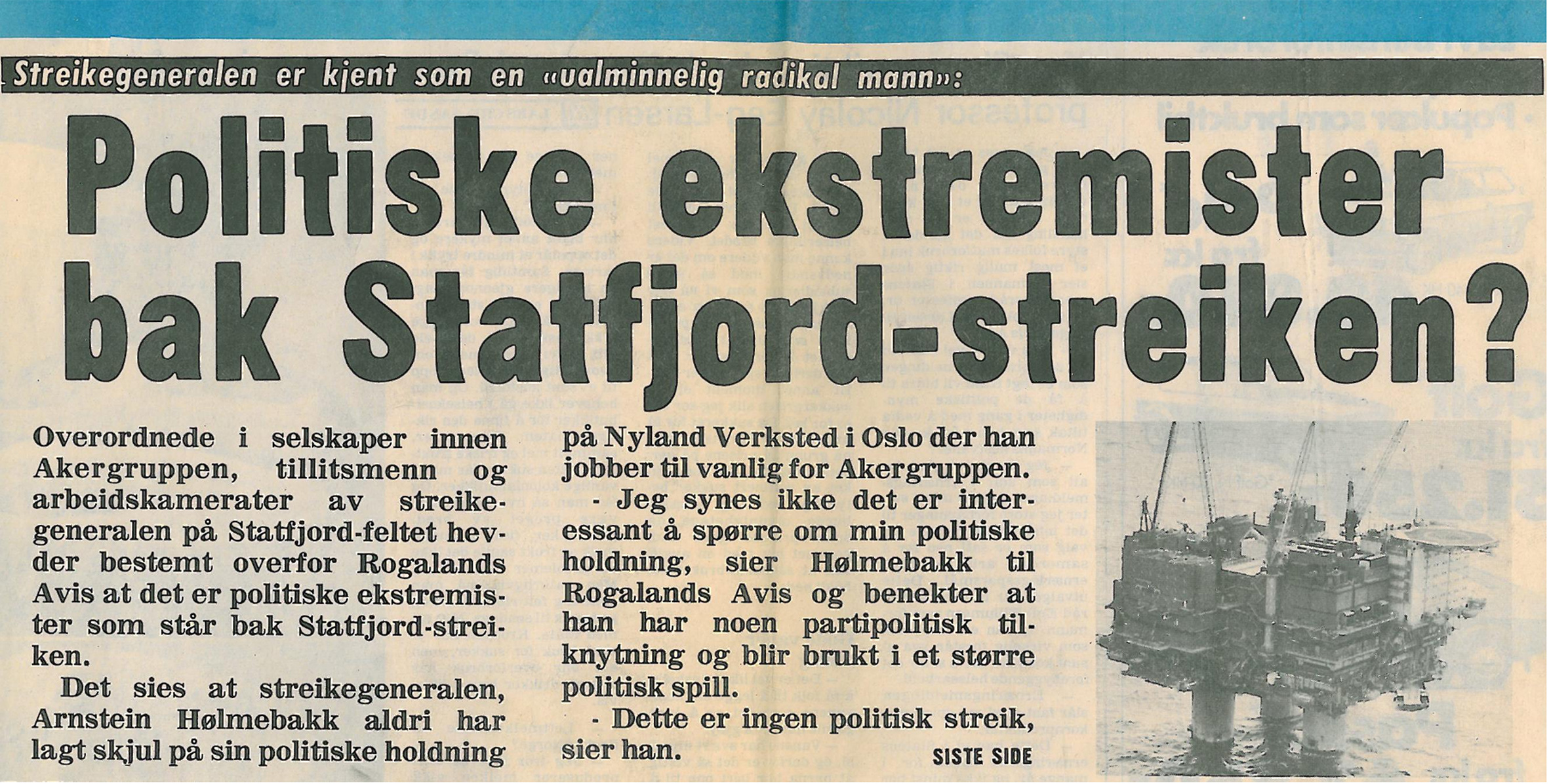 No documented reprisals occurred after the strike, but only two of the 13 members of the strike committee returned to the platform. The others were demobilised. In other words, they retained their job at their parent company, but never received permission to go offshore again.
Hølmebakk was one of those who went out again, for a single tour, but that was against the wishes of his employer, Nylands Verksted in Oslo.[12] Dubbed the "strike general", he was described by several newspapers both during and after the stoppage as an extremist and fanatical AKP-ml member.
The prevalent view in a number of media was that he had started the strike and wanted to make it political. Hølmebakk himself rejected these claims, he did not belong to any party and the strike had no political aspect.
But Nylands Verksted refused to allow him to go offshore again on the grounds that he had headed an illegal strike. Many people took a negative view of this behaviour. Even Sakseide spoke out on Hølmebakk's behalf in Bergens Tidende: "In my personal opinion, I must express my disagreement with the decision that strike leader Arnstein Hølmebakk will not be allowed to go offshore to Statfjord A again. I feel this smacks of a poor personnel policy."[REMOVE]Fotnote: Halvorsen, Ø M. Streiken på Statfjord A. Oslo, 1978.
The workers on Statfjord A threatened to down tools again if he was not given a permit to travel. A general meeting on the platform on 6 September resolved that the workforce would await events, but that they were fully agreed that Hølmebakk should come offshore again and that no attempt to spin out the issue would be tolerated.[REMOVE]Fotnote: Telex to the Aker companies on land from the Statfjord A workers, dated September 1978. Archive 2010.004, Norwegian Petroleum Museum. He was allowed to go offshore again, but only for one more tour.
The strike had been expensive, but how much it had cost is difficult to determine. At least 700 workers had downed tools for seven days, which meant the loss of 58 800 working hours. And that was on a platform already afflicted by cost overruns and delays. Bergens Tidende estimated the bill at NOK 30 million.[REMOVE]Fotnote: Smith-Solbakken, Marie. Oljearbeiderkulturen. Historien om cowboyer og rebeller. Trondheim, 1997: 283.
A crisis of confidence between offshore employees in the LO and their union officials on land was also exposed by the strike. It became clear that the absence of elected union officers who could represent the offshore workforce posed a problem for the union.
On the platform, the workers only had the working environment committee to put their case. They had no body which could raise issues directly with the management. Everything had to be channelled via the organisation on land.
In this case, that led to ad hoc action when the notices on the smoking ban appeared. One consequence of the stoppage was therefore that a separate common organisation was established for LO members on Statfjord A. In addition, sanitary conditions and provision of drinking water were improved and working conditions became more civilised. Safety on the platform also received a boost.
Poor working conditions or striking to smoke?
Statfjord Transport established