Statfjord organisation in the early 1980s
The Statfjord platforms were complex installations, and similar complexity prevailed in their work organisations in the early 1980s. Many different jobs had to be done, and many companies, shifts and tour rotas integrated with each other.
These installations have been through many phases over more than three decades, and both the structuring and content of the work has changed over time. Much activity has been automated, while jobs which previously had to be done offshore have been moved ashore. But roughly 200 people are still employed on the field.
Strict hierarchy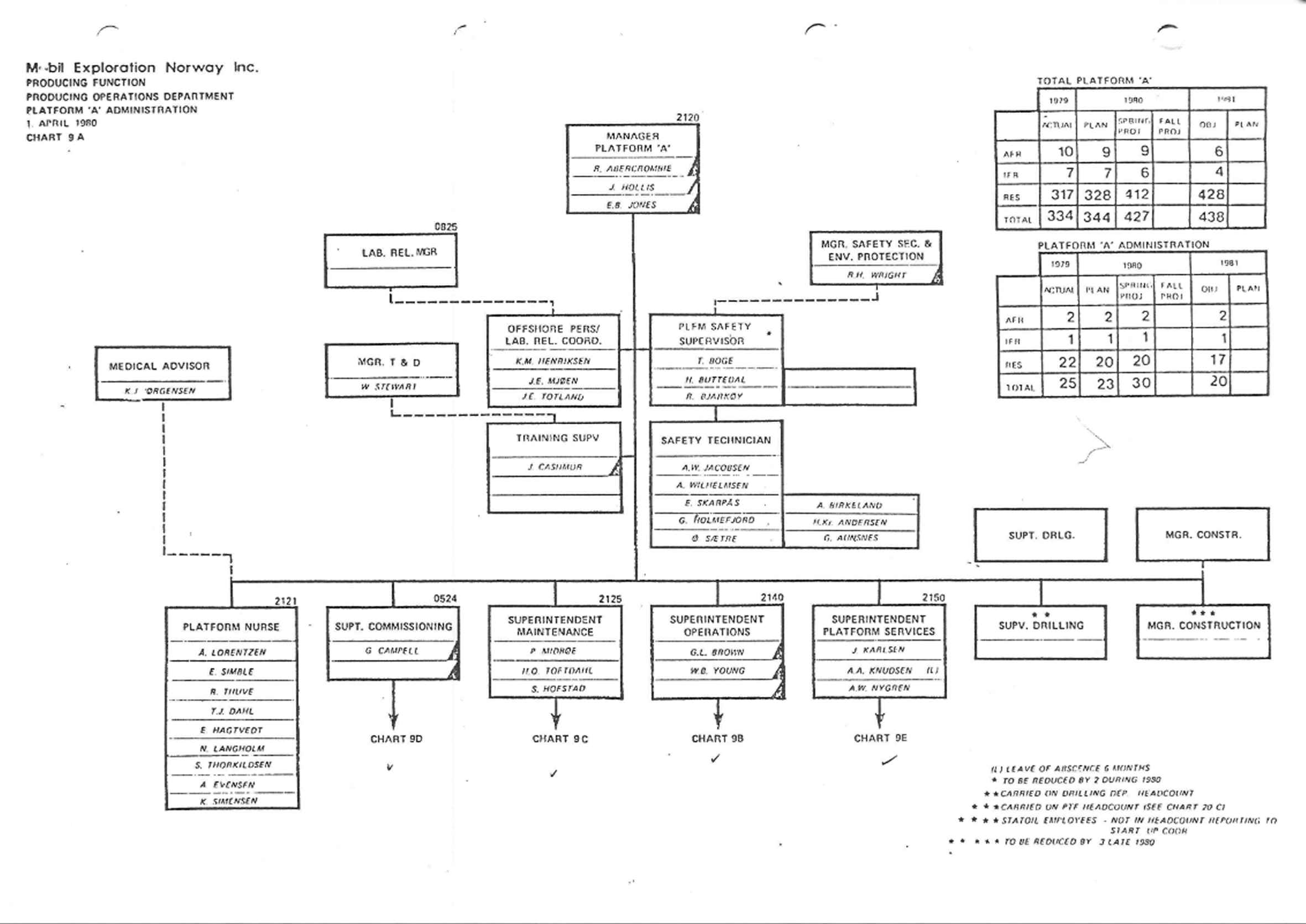 An organogram for Statfjord A in 1980 showing the senior management.
During the first decade, six-seven departments were integrated in a hierarchical organisation with various levels in each. They embraced only personnel employed by operator Mobil.
The production operation and maintenance departments were headed by superintendents, while those for marine and administration had lower-ranked supervisors as their top managers. The medical department was formally headed by a nurse on land, with the rank of supervisor, while a superintendent on land headed the drilling department.
Present on the platforms until their hook-up stage was completed, the construction department reported to a superintendent/manager on land but was headed on a day-to-day basis by a supervisor/manager offshore.
These departments were divided in turn into sections with their own authority structures. The organisation was strictly hierarchical, with the duties of each post clearly defined.
Example of a job description on Statfjord A in 1980:
Job description:
Electrical technician/Production operation department, Statfjord, maintenance section
Superior: section head electrical maintenance
Background for the post
Carry out necessary repair and maintenance work for all electrical equipment of 24V or above, and assist others in the use of such equipment in order to ensure maximum safety and efficiency.
Duties
Carry out technical preventive maintenance, repairs and some new installation work on all electrical equipment of 24V or above, including 120V, 440V and 6KV AC systems. Equipment will include motors, switchgear, transformers, current distribution systems and the platform's lifts.
Assist in preparing and maintaining the stock of spare parts in order to meet anticipated maintenance and repair requirements on the equipment mentioned above.
Assist with all routine and special log-keeping or studies required, including the necessary use of equipment, cost analyses, budgets, etc.
Maintain a high standard of safety and make recommendations for better maintenance procedures.
Assist in safety routines and special preventive measures required for working with the 6KV and 13.8KV electrical systems.
Providing guidance for technicians, unskilled workers and contractors hired to assist with major repairs.
Comply with approved procedures for [internal action requests] IAR and [preventive maintenance] PM, and procedures in the Mobil accident and fire prevention manual.
Report clear instructions in IAR and PM. Report clear handover instructions in IAR and PM if the work has not been completed.
Maintain good housekeeping standards.
Carry out other special assignments as required by the section head.
Contractors
The complex hierarchical structure of Mobil's platform organisation was enhanced by the fact that operator employees were in a minority, accounting of about 35 per cent of the workforce. The remainder came from various contractors.
Catering was the largest of these, closely followed by the drilling company and the contractor providing auxiliary drilling services. A good deal of construction work also remained on Statfjord A, which meant that this workforce was the largest set of contractor employees on that platform.
Contractor personnel on Statfjord A, 1981
Tours/shifts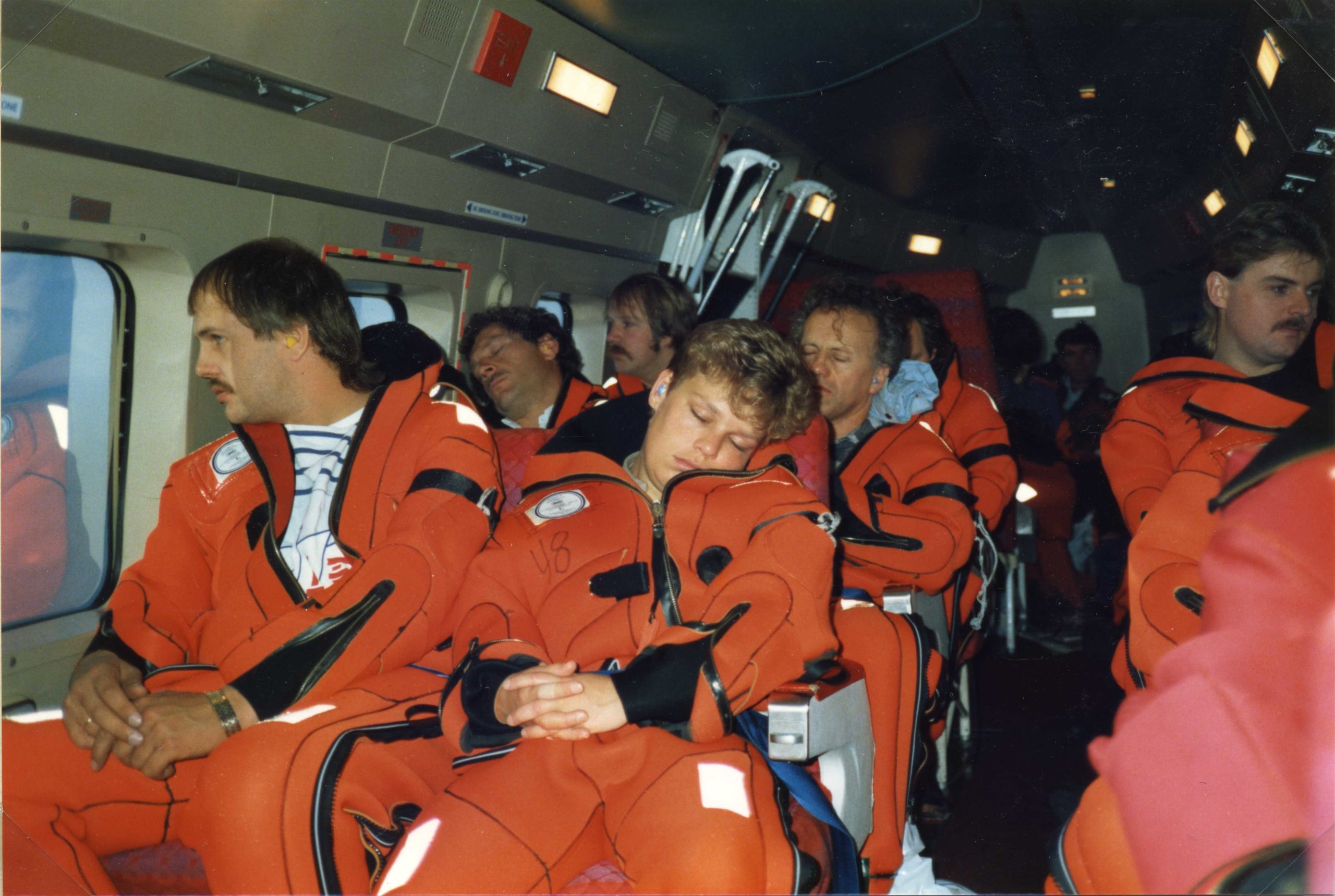 Everyone on Statfjord A worked a tour rota, which made the overall picture even more complex and difficult to comprehend. Mobil employees generally served two weeks on, two off, two on and three off, while others spent 10 days on the platform and then had 10 off.
Most worked the day shift, from 07.00 to 19.00. Since the platform was producing around the clock, however, part of the workforce – particularly in production, drilling and catering – was on the night shift.
A number of tours also had to overlap to ensure continuity, and not everyone could fly home on the same day. People travelled to and fro on different days and the workforce became unstable, with personnel constantly arriving and departing.
Expertise
The workforce was characterised by a multiplicity of backgrounds, education and experience. Mobil employees generally had a high level of education or long work experience – particularly from shipping. They were almost exclusively men, and were regarded as managers.[REMOVE]Fotnote: Hellesøy, Odd H (ed). Arbeidsplass Statfjord. Universitetsforlaget 1984, p 86.
Although 95 per cent of the workforce was Norwegian by 1983, the working culture continued to be influenced by American organisational practice despite a Norwegianisation process.
The few foreigners who remained largely held management jobs, and were mainly Americans with a few Britons and Canadians. Norwegians had replaced the big group of Mexicans, Spaniards, Portuguese, Swedes and Finns who had made their mark on Statfjord A during the construction and commissioning phases.
Drilling personnel were largely men above the average age, and accounted for the bulk of the foreigners on Statfjord A. By contrast, contractor employees for drilling support services were much younger than average. They were also exclusively men.
Catering staff were younger, split roughly 50-50 between women and men, and generally had lower education and pay – and thereby status – on the platform. The bulk of the women in the workforce were employed in catering.
Working life and leisure
As mentioned above, most of the personnel worked from 07.00 to 19.00. Breakfast was served at 05.30-06.30, lunch at 11.00-13.00 and dinner at 17.30-19.30.
The bulk of the workforce was accordingly free to pursue leisure activities after 19.00. Films were shown four times a day, and videos were distributed to the various lounges. Radio broadcasts and music could be listened to in the cabins.
Daily newspapers from the whole of Norway and a number of foreign papers were available to everyone and the library was well stocked. Opportunities for exercise were also available.